DFW Car Central works with a chain of Dallas-Ft. Worth Toyota dealerships to bring you some of the best, most all inclusive new and used Toyota car listings in the state. We single out dealers based on their reputation for running an integrity driven business, as well as their adherence to providing first rate service and bargain prices. DFW Car Central helps focus the car research process by giving you access to listings of Toyota used cars from top tier dealers all over the city - on one easy to navigate website!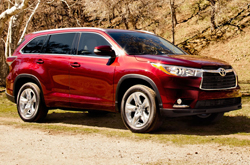 Toyota reviews, listings of new and used Toyota cars, a local dealer directory and even listings of vehicles under $10K are all at hand on DFW Car Central. Now you'll spend considerably less time filtering through hundreds of review and dealer pages and get everything you need in one spot! Searching for a new car is inarguably one of life's most time consuming events, but with DFW Car Central the process is much easier. Use our vehicle listings and Toyota reviews to compare cars and figure out which model best fulfills your needs and budget.
Find your next car now - browse our inventory of low cost, high quality Toyota used cars from Dallas-Ft. Worth Toyota dealerships near you!